Skip to Main Content
It looks like you're using Internet Explorer 11 or older. This website works best with modern browsers such as the latest versions of Chrome, Firefox, Safari, and Edge. If you continue with this browser, you may see unexpected results.
Writing Center
Writing Lab: Academy Resource Center Academy of Art University. Improve your writing skills and get help with writing assignments at the Writing Lab, Academy Resource Center.
Online Writing Lab (OWL)

The Online Writing Lab (OWL) is an Internet-based writing lab. Students can send their writing assignments to the OWL, and a tutor will send them an email response within 24 hours.
MLA, Chicago & APA Citation Styles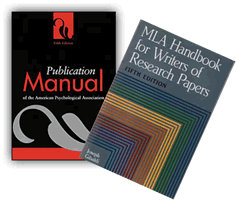 Use the pages under Step 5: Citation for MLA, Chicago & APA Citation Styles formatting guidelines and citation examples.
Reference Help
Do you have a reference question, but can't make it to the library to talk to a librarian? Submit your question here and one of our librarians will get back to you within 24 hours, Monday through Friday. During business hours you can give us a call at 415-618-3842 to speak to a librarian.

If you would like individual research help, you can also use the Ask a Librarian link above to schedule an appointment with a librarian for a research consultation. You can meet with a librarian in person, online, or on the phone.

This service is available to currently enrolled Academy of Art University students and faculty only.
Off-Campus Access
The Library provides remote access to journals, magazines, newspapers, E-books, streaming videos, and more.
To access these resources from off-campus, when prompted, enter your name and the 8-digit student or faculty ID number located on the front of your AAU ID card.
Library Director
Debra Sampson